Each school and college at Syracuse University reviews each academic program on a four-year cycle. Through the review process, faculty are asked to review common data sets along with other information to create an overview of a specific academic program. Syracuse University's program review process incorporates all of the following features:
A fair and equitable, faculty-driven procedure for evaluating each program for which the school/college is responsible, using assessment outcomes, institutional data, and disciplinary norms to make recommendations;
Collecting evidence for evaluation that address the four characteristics of quality, demand, cost-effectiveness, and centrality to mission;
A schedule for program review that allows for each program in the school or college to be evaluated at least once every four years; for schools/colleges or programs with specialized accreditors, the specialized accreditation timelines should be factored into the program review calendar to minimize redundant work;
A process of cross-college consultation on joint programs and other programs where modifications, mergers, or closures would affect the work of another school/college;
An annual school-wide or college-wide review of the full portfolio of programs to act on recent recommendations and ensure fit with the mission of the school/college and the University. This review should consider program-specific assessment plans and annual assessment progress reports as one element of the evaluation process.
Evaluation conclusions and recommended improvements identified in a review process should be included as success criteria in the next review cycle.
Process Overview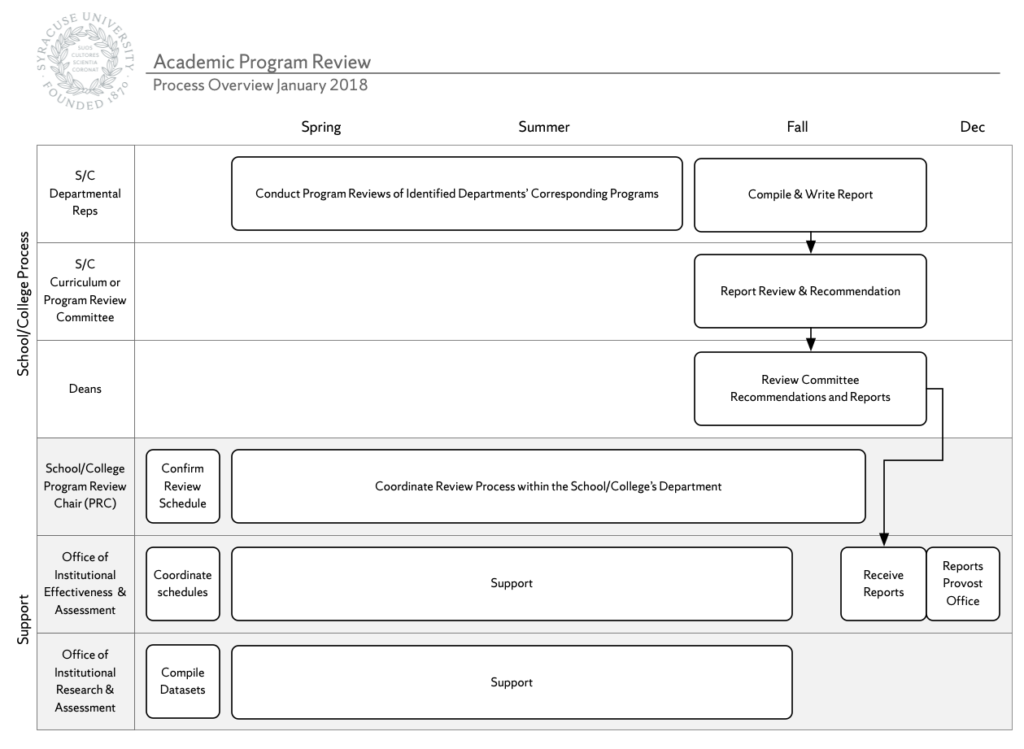 Steps to Undertake Systematic Program Review
Appoint a Program Review Chair: Each dean can appoint a faculty member or staff member to take responsibility for structuring the review process. This can be the same person who leads in the area of assessment or curriculum. Program review is an annual activity, so this responsibility would ideally be for a multi-year period. For school/colleges that have specialized accreditation, these processes may mesh with the existing assessment and compliance duties of a staff or faculty member who runs the specialized accreditation process. The Program Review chair will set the annual schedule for evaluation and provide the reporting deadlines for program representatives and others involved in the program review process.
Appoint Program Representatives: For each unit (e.g., an academic department) that "owns" a program or set of related programs, the dean appoints one or more faculty representatives who can gather data (see next item) about the programs under review in a given year. Depending upon local culture, this could be a faculty member, program director, a department chair, or an associate chair.
Collect Data: Data about a program should always contain the common data elements (below) plus any additional indicators the program representatives consider relevant in each of the four areas. The Office of Institutional Research and Assessment (OIRA) will provide the common data elements.
Submit Program Reports to School/College Curriculum Committee: Each school and college has at least one committee dedicated to curriculum management. This committee can obtain program reports from program representatives and evaluate them using a uniform set of judgment criteria that apply to all programs in the school or college. For each reviewed program, the committee should make an evaluative judgment and a recommendation: update the program with suggested improvements, maintain the program as is, merge the program with another related program, or close the program. The school/college committee then submits their report, along with recommendations, to the respective Dean.
Provide Mechanisms for Faculty Appeal of Recommendations: Program representatives should have an opportunity to consult with program faculty and, if necessary, appeal program recommendations by presenting additional program data to the school/college curriculum committee. Acting through the program review chair, the dean of the school/college can apply a set of deadlines and adjudication procedures to ensure a fair and equitable final decision about the program(s) in question.
Conduct Consultations and Program Actions: Substantive modifications to a program's academic content, a decision to merge, or a decision to close should be undertaken in consultation with other schools/colleges that may be affected by program changes. Most program and course changes require the approval of the Senate Committee on Curricula, and some program changes also involve communications with the New York State Department of Education and our regional accreditor, the Middle States Commission on Higher Education. The Office of the Provost and Vice Chancellor can provide guidance and support on all of these administrative steps.
The Office of Institutional Effectiveness and Assessment can provide assistance with the program review process.
Evidence for Program Evaluation
Evidence evaluated for program review is comprised of a core data set common across all program reviews, plus any additional data the school/college may deem appropriate for individual programs. A concise narrative should accompany the presentation of the data. Data elements should be referenced in the report's appendices. Reports should be in the range of five pages. The Program Review Overview Memo includes a table that lists the core data set, followed by examples of additional data schools and colleges may find valuable when examining individual programs. Additional data should be chosen with the aim of providing multiple types of evidence to provide a holistic
view of the program.
Within broad disciplinary areas (such as STEM), it is valuable to use consistent criteria for programs in each area. Academic program leaders should not pick and choose what evidence to present, rather, the school/college curriculum committee should provide guidance and set expectations as to what evidence should be included in each program's report.
Resources
The 2020 Program Review Overview Memo summarizes the process, and dashboards are available on the 2020 schedule page. If you have questions about program review, please contact iea@syr.edu.