Faculty Portfolio System – An Overview
Syracuse University is committed to supporting faculty in efficiently creating a holistic view of teaching, research and creative works, and service activities, and to supporting departments, schools, and colleges in using an enterprise system to efficiently obtain, store, and feature faculty accomplishments.
The University is working to streamline the information gathering process and provide support to the faculty, departments, schools, and colleges to further faculty success. Faculty will be able to easily track their tenure and promotion workflow when applicable. The system will also support the annual CV update process.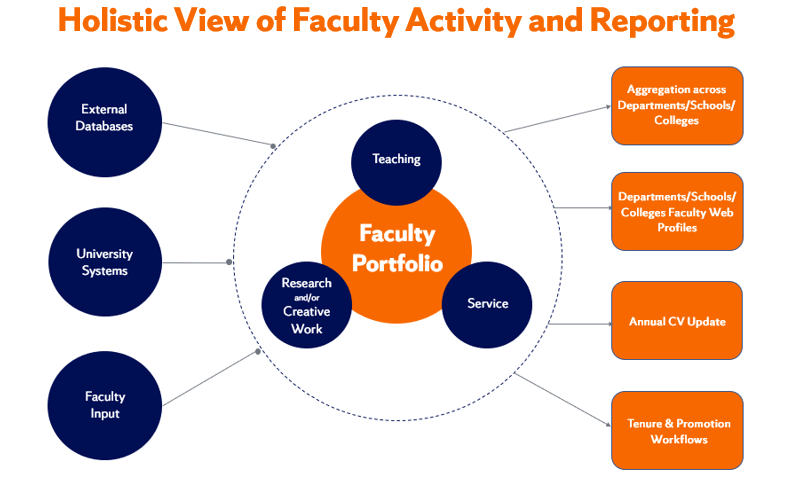 The Faculty Portfolio system builds on the following guiding principles:
Support faculty success across the full spectrum of activities that are at the core of the University's academic mission by reflecting contributions to teaching, research and/or creative work, and service.

Document faculty accomplishments based on established school/college criteria and cultural/disciplinary expectations.

Save faculty time, to the extent possible, by gathering publicly and institutionally available records of faculty accomplishment. Faculty have the opportunity to review, verify, add, and edit their portfolios.

Support salary equity goals at the University.

Maintain existing school/college and University processes for faculty review (i.e., annual review, tenure, and promotion).
Key Benefits:
The Faculty Portfolio system summarizes details about faculty accomplishments in a useful, consistent, and sharable manner. The key benefits of a digital platform include:
An intuitive interface that makes it easy for faculty (or designees) to enter information into the system and update it instantaneously.

An integrated platform, which imports:

Publications from databases like Scopus and Web of Science with citations adhering to disciplinary style guides

Scheduled teaching information from PeopleSoft

Course feedback results

Customized fields and workflows consistent with school/college policies and practices.

Artifacts of faculty work can be stored, such as publications, presentations, grant award letters, and audio and video recordings of performances; CVs can be created for different purposes; and web profiles can be updated with minimal effort.

Curriculum vitae (CVs), recent publications, grant applications, collaborations, promotion and tenure documents, accreditation reports, and online profile summaries for annual school/college, departmental, and University-wide review can be generated, assuring a more equitable effort. Reports support the recognition of faculty accomplishments and impact and can be used in strategic planning and program assessment.

Access to the system, data, and tenure & promotion documents is restricted by roles; permissions are verified by NetID/single sign-on. Faculty have access to their account whereby they can update or modify the information. Only the department representative for Faculty Success will have access to information from the department.

Secured system matches current faculty workflows and processes such as annual CV update, promotion and tenure, and reporting, including required accreditation reports. Configurable CVs or bio-sketches are available for various purposes.
Data Privacy and Security
The University's procurement process includes an Information and Technology Services (ITS) security review. The selected system uses 800-53 for its security controls. The system is aligned with the University's information security framework.
FAQs
Information in the Faculty Portfolio System supports faculty in efficiently creating a holistic view of teaching, scholarship, and service activities. The electronic portfolio captures details about faculty activities in a useful, consistent, and sharable manner.

Syracuse University faculty, academic administrators, and other staff with a valid SU NetID can access the data based on their role. The access is the same as it is in current faculty reporting practices. For example, a faculty member could designate someone to enter information on their behalf.

The system is not an open database and can't be searched on the internet.

If you have any questions about Faculty Portfolio, contact the Faculty Portfolio team at vita@syr.edu