April 5, 2019
Peter Graham Scholarly Commons, 114 Bird Library
Our campus community engaged in assessment activities to support student learning and enhance campus operations. This inaugural event showcased and celebrated these efforts!
---
Poster Award Winners:
Best Faculty Engagement Strategies: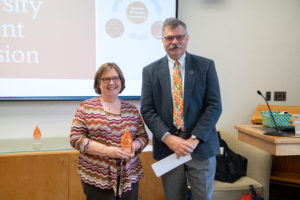 Improving Learning Outcome Statements: How to Use Bloom's Revised Taxonomy as a Base Map
Anne Mosher, Chair
Citizenship and Civic Engagement, Maxwell School
Citizenship and Civic Engagement created a set of program learning outcome statements in 2016. After two assessment cycles, we find that these statements are vague and do not properly reflect the learning that takes place within our program. We have been attempting to improve them by "mapping" them onto Bloom's Revised Taxonomy. This has involved a three-step process: 1. Mapping program learning outcomes onto the taxonomy, 2. Mapping course learning outcomes onto the taxonomy, 3. Comparing the map patterns produced–both visually and statistically. This technique has allowed us to see what knowledge and cognitive process dimensions our program learning outcomes statements hit and miss. It also helps us compare our learning outcomes ("ideals") to what students are actually asked to do in our courses (the "reality"). In this poster, we focus on a single program learning outcome, the beginning course in the program that introduces this outcome, and three reinforcing assignments. The maps produced have allowed us to develop more appropriate learning outcomes statements for this course and for the program as well.
Best Staff Engagement Strategies: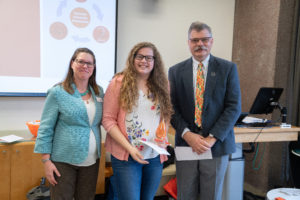 Community Engaged Learning Outcomes
Colleen Cicotta, Associate Director
Sierra Eastman '20, Shaw Center Leadership Intern
Mary Ann Shaw Center for Public and Community Service
During the 2017-18 academic year, the Mary Ann Shaw Center for Public and Community Service assessed the impact of community engaged work on the development of critical career skills. Shaw Center staff also assessed our use of reflection as a tool for meeting other stated learning outcomes and our ability to meet operational goals for transportation. Overall findings indicate that Shaw Center initiatives are successful in supporting student development of critical career skills and other stated learning outcomes. Operational assessment indicated that changes to our transportation system have increased capacity to accommodate students who are doing community engaged work for academic purposes.
Best Use of Results: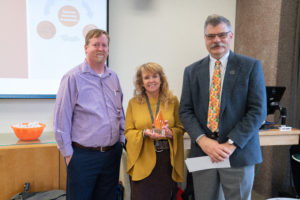 Data Driven Decision Making: This Is What We Are All About! 
Kimberley Salanger, Accreditation/Assessment Coordinator/Functional Business Analyst, Dean's Office
Jason Curry, Assistant Teaching Professor/AAQEP Coordinator, Instructional Design, Development & Evaluation
School of Education
The School of Education Unit for Preparing School Professionals has a strong history of engaging with assessment processes as demonstrated by numerous and successful accreditation visits and national program recognitions. SOE believes in data-driven decision making noting that no one event can dictate programmatic changes. This faculty-driven process is supported by an accreditation coordinator and assessment coordinator who oversee seamless collection, analysis and reporting of data from multiple-measures and varying perspectives. The data are organized by candidate, program, and Unit to facilitate sound programmatic changes.
Best Poster Design:
Development of Young Scholars and their Career-Preparedness: HDFS Assessment Report
Eunjoo Jung, Associate Professor, Undergraduate Director
Ambika Krishnakumar, Professor, Chair
Rachel Razza, Associate Professor
Human Development and Family Science, Falk College
The Department of Human Development and Family Science's assessments are geared toward ensuring the high quality of our students' education while also meeting the program's commitment to the Middle States Commission on Higher Education. Our assessment efforts include identifying and systematically evaluating student learning outcomes through curriculum mapping, course-embedded assignments, capstone experiences, and exit surveys. Assessment results inform evidence-based decision-making and practices to advance student scholarship, career preparedness, and curriculum development. Our direct and indirect assessment efforts indicate that we are successfully meeting requirements for and improving student learning outcomes. HDFS is committed to making student learning outcomes assessment an ongoing and critical part of students' success.
People's Choice: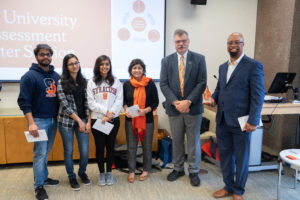 Orange SUccess – Managing Change, People, Technology, and Process 
Kal Srinivas, Director for Retention
Hopeton Smalling, Functional Business Analyst
Academic Affairs / Enrollment and the Student Experience
Managing change and culture within a large private university is daunting, but can be done by diagnosing what areas need alignment. More importantly, sustaining institutional change in higher education is possible with a strategic approach. This session will provide examples of how adoption of Orange Success was promoted strategically through the lens of "One University." We will share how our thinking shifted from focus on departments to an all university view to successfully embed/anchor the change. Lessons learned include the many reactive changes that were unforeseen, or were simply more difficult to influence from the start.
---
Thank you to all of our poster presenters:
A Model for Curriculum Evaluation and Revision in Bioengineering
Pun To (Douglas) Yung, Assistant Teaching Professor
Biomedical and Chemical Engineering, ECS
Curriculum evaluation and revision are often driven by student comments and satisfaction, but they may not reflect the attainment of learning outcomes, impact on educational objectives or long-term knowledge retainment. This poster uses a number of direct and indirect assessment on student learning outcomes to holistically revamp individual courses and as a yardstick for curriculum evaluation and revision. Assessment plays an integral role in shaping behavior and values. Some of the assessment strategies include course-based assessment activities, closing the feedback loop, developing course portfolios, and connecting the gaps between formative and summative evaluations.
A Virtual Internship Model to Assess and Maximize Success in Bioengineering Senior Capstone Design
Pun To (Douglas) Yung, Assistant Teaching Professor
Biomedical and Chemical Engineering, ECS
Typical engineering curricula culminate in a senior capstone design course. At Syracuse University, the bioengineering capstone project is designed to provide students with a relevant and realistic client-based design experience through hands-on projects. It is not uncommon to have a few high-achieving teams and the rest of the class with varying degrees of success. A virtual internship model has been adopted in this course to emulate a real-world environment that entry-level engineers experience. Different project management techniques are introduced to assess and maximize success in this course.
Assessing Experiential Learning
Maureen Thompson, Associate Professor
Public Health, Falk College
Service learning and community engagement are cornerstones of public health education at Syracuse University. By purposefully integrating classroom instruction with hands-on opportunities, longstanding faculty-agency collaborations locally and globally allow us to enhance student learning while helping to address health needs of the community. We utilize an academic service-learning approach to integrate community-based learning opportunities with classroom instruction. This presentation will outline our model of academic service learning, learning outcomes, and assessment approaches.
Assessment Activities at the Libraries
Peter D. Verheyen, Librarian, Research and Emerging Issues Analyst
Amanda Page, Open Publishing and Copyright Librarian
John Stawarz, Online Instruction Librarian
Deirdre Joyce, Metadata Services Librarian
Syracuse University Libraries
Using three examples, this poster illustrates the state of the Libraries' assessment process. Included is an overview of the Libraries' rationale for selecting goals, why these are important, and expressions of successes, challenges, and lessons learned. Examples include the Digital Library Program, support for Open Access and Open Publishing, and Online Instruction.
Assessment Must Start with the Students: Senior Exit Surveys
Bill Coplin, Director and Professor of Policy Studies
Isabella Baglietto, Student Presenter
Whitney Wertheimer, Student Presenter
Policy Studies Program, Maxwell School
The Policy Studies undergraduate major has conducted senior exit surveys for the past 20 years. The survey questions are connected to the major learning objectives for the Program, in course syllabi, and to course evaluations. The data from the survey are used for formative purposes by the faculty, staff and students. The primary value of having senior exit surveys be the primary data source over a long period of time and connected to course materials and evaluation is that it focuses our evaluations on our customers, and it provides a stable set of data. Difficulties in implementing the survey are mostly related to getting a high response rate. We have averaged about 70% year in and year out. The poster will describe the tactics we used to get a high response as well as show how the results have been used.
Building a Community of Assessment
Peggy M. Takach, Director, Faculty Center for Teaching and Learning & Adjunct Faculty
Margaret Craft, Academic Operations Analyst
iSchool
The iSchool prides itself in its collaborative, supportive community of faculty and staff as a School of One, and we have made great strides in establishing a culture of assessment as we improve our programs and experiences for our students. The iSchool developed and implemented a new assessment process over the past year. This poster will include detailed levels and components of the iSchool process and samples of some of their new elements: four-year cycle plan with timeline and criteria for assessing core classes, 18-month cycle plan, assessment task force and their new syllabus certification.
Engagement in Syracuse University's Assessment Process
Fresenai Afeworki, Research and Assessment Intern
Laura Harrington, Associate Director
Amanda Johnson Sanguiliano, Assessment Associate
Institutional Effectiveness and Assessment
Over the past four years, Syracuse University has been involved in a campus-wide assessment initiative with the goal of enhancing student learning and University operations through evidence-based decision-making. At the academic program level and in co-curricular and functional areas, faculty, staff, and school/college leadership are studying how well student learning outcomes, goals, and operational outcomes/objectives are being attained. A variety of actions are being taken or considered based on evidence they have collected. This poster provides an overview and initial findings from the Assessment Working Team's study on the University's engagement in the assessment process. Overall, the findings indicate that there is increasing faculty engagement in the assessment process of academic programs.
English Language Institute
Christina Huerta, International Student Advisor
David Lind, Director
Olga Oganesyan, Assistant Director
English Language Institute
The English Language Institute focuses on pre-academic training programs which prepares international students, including Fulbright scholars, to succeed in undergraduate and graduate degree programs at Syracuse University and universities across the United States. Student learning outcomes include both language acquisition and intercultural competence, leading to better academic performance in their degree programs. The ELI specializes in both EAP (English for Academic Purposes) and ESP (English for Specific Purposes) programs, designed in partnership with graduate programs at the university. The ELI works collaboratively with partners both on and off campus to support the University's internationalization efforts.
Helping Students Become Expert Independent Learners
Margaret Usdansky, Director
Rich Granato, Academic Learning Specialist
Center for Learning and Student Success
The Center for Learning and Student Success (CLASS) strives to offer comprehensive, high-quality academic support services for students. These include group and one-on-one tutoring, academic coaching, workshops, and academic integrity education and case management. This poster describes program growth and expansion since the founding of CLASS in 2017 as well as the ongoing assessment of CLASS programming. Special attention is paid to CLASS's newest program – academic coaching – designed to help students build confidence and competence in using research-based learning strategies to improve their study skills and academic success. Coaching is a CLASS research and evaluation project with faculty in Maxwell and Falk. Participating students are randomly assigned to the 8-hour, 4-week in-person program with peer coaches or to online coaching resources.
Information Literacy is Everywhere! Strategic alignment of SU Libraries learning outcomes with Academic Programs
Kelly Delevan, Information Literacy Librarian
Syracuse University Libraries
SU Libraries are developing a programmatic approach to information literacy.
By aligning SUL's information literacy student learning outcomes with relevant outcomes in academic programs, the information literacy librarian can be strategic in moving the program forward. The alignment was completed by analyzing all program learning outcomes in Tk20 for themes related to information literacy knowledge practices and dispositions articulated by the SU Libraries Information Literacy program.
Orange SUccess – Ensuring Accessibility through Collaboration
Kal Srinivas, Director for Retention
Hopeton Smalling, Functional Business Analyst
Academic Affairs / Enrollment and the Student Experience
Syracuse University has significantly advanced its technology resources in alignment with the 2015 Academic Strategic Plan, in support of student success. The plan integrated campus efforts and resources to improve outcomes. High-tech vendors deliver applications to HED through cloud-based services that mostly depend on web browsers as the primary user interface. Orange SUccess, a web based advising tool was rolled out in spring 2016 and accessibility issues occurred after the contract had been signed. This session will present how a campus-wide initiative managed the expectations of users and vendors, through collaboration, while maintaining compliance. Learn about the challenges we face and how we overcome them.
Student Authored Program Review
Austin Zwick, Assistant Teaching Professor of Policy Studies
Morgan Laucius, Student Presenter
Julia Howard-Flanders, Student Presenter
Policy Studies Program, Maxwell School
In Fall 2018, the Policy Studies department had a Benchmarking class where five students were tasked with writing the Program Review for the department overseen by Professor Zwick. The review focused on (1) the four dimensions specified by Middle States (Quality, Demand, Cost Effectiveness, and Centrality to Mission), and (2) how the Policy Studies Major fulfills the strategic plan of the College of Arts and Sciences and the Maxwell School. The team analyzed data from (1) department records, (2) Senior Exit Surveys, (3) Course Evaluations, and (4) Office of Institutional Research and Assessment. This poster presentation overviews the work done by these students, presents findings, and encourages other departments to use students in their program reviews.
Snapshot
Roderick M Martinez, Associate Professor & Program Head
Communications Design/School of Design, VPA
Snapshot – A Program of Assessment is a view of the assessment processes created and implemented by the program of Communications Design / School of Design / College of Visual and Performing Arts. This poster features a series of information graphics that illustrate how this program conducts assessment of learning outcomes and forms the overall teaching and learning experience. The program has over a quarter of a century invested in student assessment and this "snapshot" is an attempt to share this knowledge with interested colleagues and others in the academic community.
Viewing Program-Level Assessment Through a Professional Lens
Aileen Gallagher, Associate Professor and Director of Assessment and Program Review
Laura Harrington, Associate Director for Institutional Effectiveness and Assessment
Newhouse
During its last ACEJMC accreditation review in 2015, Newhouse was advised to 1. Create a formal, school-wide process that 2. Assessed programs, not classes. The school appointed a faculty member as assessment director and created a school-wide standing committee on assessment. The committee reviewed
self-studies and site-visit reports to learn how other accredited programs approach assessment. Going forward, Newhouse will assess student learning (and subsequent job readiness) through direct measures such as capstone projects, portfolios, and internship evaluations. Indirect measures will include exit surveys and alumni surveys, and tracking of student awards.
Acknowledgements 
Chris Johnson, Associate Provost for Academic Affairs
Carol Faulkner, Associate Dean for Academic Affairs, Maxwell School, Award Judge
Ralph Lorenz, Senior Associate Dean, VPA, Award Judge
Sarah Smith, Research Associate, Office of Institutional Research, Award Judge
Bruce Carlson, Facilities Manager, ECS
Monica Stitt-Bergh, University of Hawaii at Minoa Assessment Office
Syracuse University Libraries